LIVE UPDATE: Buhari Presents Nigeria's 2021 Budget To The National Assembly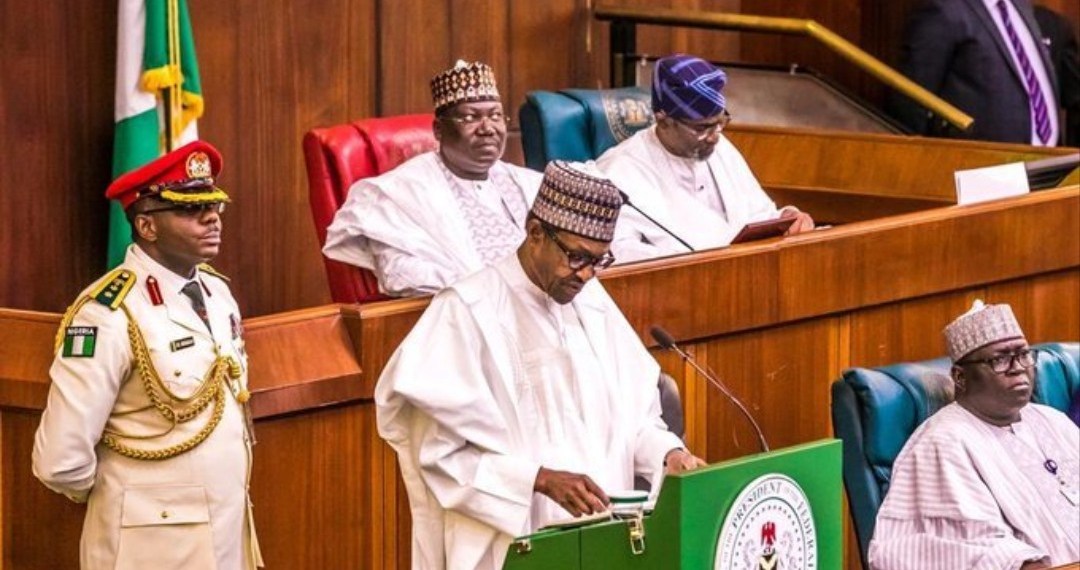 The National Assembly is ready to receive President Muhammadu Buhari who is expected to present the 2021 budget.
Information gathered revealed that the operatives of the Department of State Security and other security oparatives are at the National Assembly. Journalist with tag are only given permission into the premises while others are turned back.
The two main entrances into the complex has ten operatives at the back entrance to the lobby.
Three DSS men sat at the side entrance of the Green Chamber where the joint sitting would hold.
President Buhari is expected to present a N13.08 trillion national budget for the 2021 fiscal year approved by the Federal Executive Council
Follow the live updates of the budget presentation on this page.
10:32 a.m.
Senate suspends plenary to join colleagues at the House of Representatives for the budget presentation.
Lawmakers proceed to the green chamber.
10:38 a.m.
Speaker of the House, Femi Gbajabiamila, arrives National Assembly. Proceeds to the chamber.
The House of Representatives has suspended its rules to admit members of the Senate and other outsiders.
Senators are now arriving into the chamber of the house where the budget will be presented
.
Unlike previous years, this year's budget presentation will witness fewer number of persons due to the COVID-19 pandemic.
Lawmakers are expected to observe social distancing and ministers who have nothing to do with the exercise have been advised to stay away.Already, the number of journalists in the National Assembly have been cut down to also reduce number of persons.
Senators proceed to the green chamber ahead of the budget presentation
Senate President Ahmad Lawan has arrived the chamber of the House of Representatives. He was accompanied by the deputy senate president and other principal officers.
President of the Senate, His Excellency, Ahmad Ibrahim Lawan welcomes the President to the National Assembly for the presentation of the #FGNBudget2021. He recalls the presentation of the 2020 budget around this time last year and the promise to return to the Jan-Dec budget cycle

— The Nigerian Senate (@NGRSenate) October 8, 2020
Ahmad Lawan thanked members of the National Assembly for fulfilling that promise by working assiduously towards achieving that promise and said that same vigor would be applied to the 2021 Appropriation Bill when it is presented. #FGNBudget2021 pic.twitter.com/XKLJmar0bJ

— The Nigerian Senate (@NGRSenate) October 8, 2020
His Excellency, President Muhammadu Buhari is now presenting his address on the #FGNBudget2021. pic.twitter.com/Wz5x2TIihZ

— The Nigerian Senate (@NGRSenate) October 8, 2020